The startup ecosystem in Portugal aligns with important and appreciated business hubs from abroad and allows small or young entrepreneurs to access funds in a fast manner. The Portuguese government offers support through varied programs and incentives, letting businesspersons enter quite fast on the market. Those interested in opening a startup in Portugal can solicit assistance and guidance from our team of company formation agents in Portugal. We are here to help both domestic and foreign entrepreneurs start a company in Portugal, by handling all the formalities.
What is the proper business structure for my startup in Portugal?
LDA or the limited liability company is the most popular business structure in Portugal and the choice of numerous entrepreneurs looking for a fast start on the market. The incorporation of an LLC is quite simple, with complete support and guidance offered by one of our specialists. Here are the main steps for opening a business in Portugal:
Prepare the Articles of Association with information about the owners, the activities, general rules, business address, etc.
Make sure the business name is available – a name verification can be made with the Portuguese Trade Register.
Apply for special licenses and permits, if the activities require so.
The registration for tax purposes is required.
If you hire employees, make sure you pay the social contributions.
The above-mentioned steps are part of the incorporation process of a startup in Portugal, mentioning that all the bureaucracies and procedures can be properly handled by one of our specialists in company formation in Portugal. Here is an infographic that tells you more about startups in Portugal: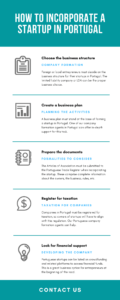 What kind of business sectors can I choose for my startup in Portugal?
Startups in Portugal can be established in most of the business sectors with growth potential as long as there are no restrictions and if all the regulations are respected. The innovative and the tech sectors are quite fruitful in Portugal, alongside design, manufacturing, tourism, and agriculture. You can open a startup in Portugal in a few simple steps, like choosing the business field, prepare a business plan, open an LDA and hire the services of a specialist to continue with the formalities. Our company formation experts in Portugal can help you create a business plan for your startup and can also represent your firm, so you can get in touch with us for extra details.
Can I open a startup as a sole trader in Portugal?
Yes, a sole proprietorship is another proper business form that can be chosen by overseas entrepreneurs who want simple and fast company formation formalities. Such a structure is ideal for small entrepreneurs who want to act as self-employed persons in Portugal. Foreigners will have to obtain the Portuguese residence card, the Social Security Number, and the Tax Number and then start the formalities for registering the sole proprietorship. A solid and structured business plan is recommended for opening a startup in Portugal, a matter where our team of consultants can help.
Do I need a Certificate of Admissibility for my business in Portugal?
Yes, a Certificate of Admissibility is normally issued by the Institute of Registries and Notaries that identifies the Portuguese company name. Such a document can only be granted after a preliminary verification of the business name for your startup in Portugal.
How fast can I start my business operations in Portugal?
It takes no more than two weeks until your company is ready for business in Portugal. In some cases, if all the formalities are accepted, the activities can start even faster. This is where we recommend support and guidance from one of our company formation representatives in Portugal who can help local and international investors open their businesses in this country. The following facts and figures reveal a few important aspects of the business direction and the economy of Portugal, helping overseas investors create an idea about why they should invest in this country:
the total FDI stock registered by Portugal in 2019 was of around USD 135,8 billion;
around 6,100 new jobs were created in 2019, thanks to all sorts of FDI projects;
non-EU citizens can obtain Portuguese citizenship in 6 years if they make investments of at least EUR 350,000;
Portugal ranks 39th out of 190 worldwide economies, according to the 2020 Doing Business report issued by the World Bank.
If you are interested in more details about how to open a startup in Portugal, we kindly invite you to contact our team of Atlantic Consulting staff in Portugal.